Guy LAFOND's first contact with art was through music but sculpture replaced his passion for music…
Born in 1961, at the age of 16 he studied with a sculptor and also in an art school in Avignon.
Today he is sculptor and also teaches sculpture.
Guy exhibits his works regularly. His favorite materials are wood and snow. He creates both large and small sized sculptures. His work is like a stage set, where words are replaced by forms.
All his sculptures are interpretations of his reflections on society and human behaviour. He travels the world taking part in sculpture symposiums in which his free and direct self expression gives rise to unique artistic performances.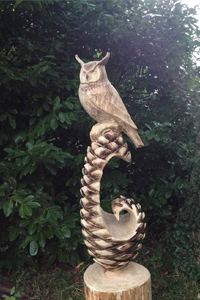 Tilleul H 190 x ∅ 0,55 Lucie collectionne les pommes de pin & Gérard se passionne pour les hiboux. "Je voulais vous faire partager quelques photos de la très belle sculpture du Grand Duc. Comme déjà mentionné, la sculpture à été offerte pour l'anniversaire des...